Adam S. Avratin, Esquire
Attorney Adam S. Avratin is an experienced trial attorney specializing in Divorce/Family Law, Business/Corporate Law, and Civil Litigation. He is Certified as a Financial Litigator by the American Academy of Certified Financial Litigators (www.aacfl.org).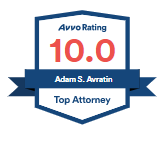 Upholding the family legacy, Adam has established new law in both Family Law and Civil Litigation. He has tried and presented matters before the Probate & Family Court, Superior Court and District Court as well as before the Appeals and Supreme Judicial Court on numerous occasions. He has carried on with a family history of strong advocacy on behalf of his clients with the proper balance between Aggression and Compassion. Although not every case needs to be tried, having the right lawyer who is prepared to fight hard for your rights and has the professional acumen to do it provides our clients with a meaningful and substantive advantage. A command of the Courtroom with unmatched zeal, integrity, dedication, and respect have proven successful. Attorney Avratin has "Stood up" for abused children and spouses, fought back "Draining" legal teams, and taken on big insurance companies to secure payments for services and injuries suffered by our clients (see Video of Appeals Court excerpt involving Construction work completed on the Gillette Stadium).
In addition to advising, counseling and providing litigation services for Massachusetts Companies, Attorney Avratin serves on several corporate boards including serving on the executive board of Open Cape, an internet company that operates a state-of-the-art 100% Fiber Optic Network built to serve local governments, businesses, and residents of Southeastern MA, Cape Cod and the Islands (https://opencape.org/about/board-of-directors/adam-avratin-assistant-clerk-attorney-the-avratin-law-office).
Attorney Avratin has repeatedly been awarded the "First Justices Award for Pro Bono Publico Services," for his ongoing pro bono services in the community, serving in the lawyer of the day program in Plymouth, Norfolk, Suffolk, Barnstable, and Middlesex County. Although he maintains a busy law practice he continues to pursue new opportunities to give back to the community. He volunteers his time to the ARC Panel (Attorneys Representing Children), and is frequently appointed by the judiciary to represent children in high conflict custody cases.